Last year, the Korean jetboard manufacturer stomped the water world with their jetwake B200 electric surfboard. We were able to test this machine at the La Reserva Beach club in Sotogrande Spain.
You can watch that video here:
We reviewed the board, and even proffered suggestions that will help enhance this board and could be implemented in a future model.
Well… ladies and gentlemen, that future model is here in 2020!
Jetwake is calling it the JW Board S30. This is their second generation jetboard and is expected to hit the market with a wired controlled system coupled with a radio remote similar to machines from other manufacturers like ewave and jetsurf. The new Jetwake board also incorporates other features identical to the aforementioned manufacturers as we will see in moment.
JW S30  – A Basic Overview
Compared to its predecessor, the JW S30 was designed to be have a more sporty look with a throttle-based safety mechanism. A modular structure is also incorporated into its design, taking inspiration from boards like AWake, Radinn and Lampuga.
This modular design structure will help users in the event there is need for support; you can simply disconnect the affected part (jetdrive, board or battery) and send it in for repairs instead of carrying the entire machine.
Another key feature to look out for is the Eco-friendliness of this machine. The designers are very environment conscious and this played a huge role in the making of the JW S30. The polyethylene (PE) material utilized in its construction is naturally degradable, making this machine recyclable; a good thing for the environment!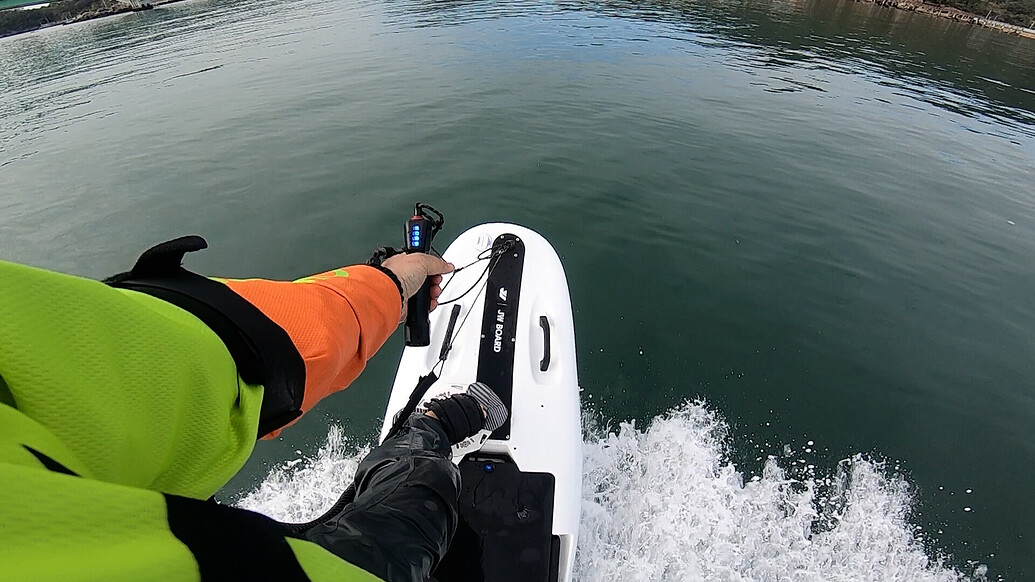 Other Stats
Dimensions:  170 x 60 x 18.5 cm
Top-speed:    40 – 50 km/h (the variation depends on the rider's weight and sea condition)
Charging Time: 2.5 hours
Board Weight – 17kg
Battery Weight – 18kg
Total weight: 35kg
Pricing
This is the one stat that a lot of you are really concerned about 🙂
Well, based on what we have learned so far, the JW S30 Board is priced at 6,850 EUR. (excludes VAT and shipping)
We must point out that despite the similarity in design to jetsurf surfing machines, this new jet wake board wasn't crafted from carbon fiber material, instead it uses a polyethylene (PE) hull. This material difference could explain the price difference between these two water machines.
 In conclusion
So far, the JW S30 Board looks like a great addition to our current crop of waterborne machines. However, it is too early  to tell if this was designed for beginners or pros.
We'll need more information from the developers regarding its technicalities. Hopefully, we'll be speaking to Mr.Lee about this new board very soon and will provide you with
updates!